Full or partial tooth loss, if left untreated, doesn't just affect a person's self-image-- it can also increase the risk of developing nutritional problems and other systemic health disorders. Fortunately, there is a reliable and time-tested method for treating this condition: full or partial dentures.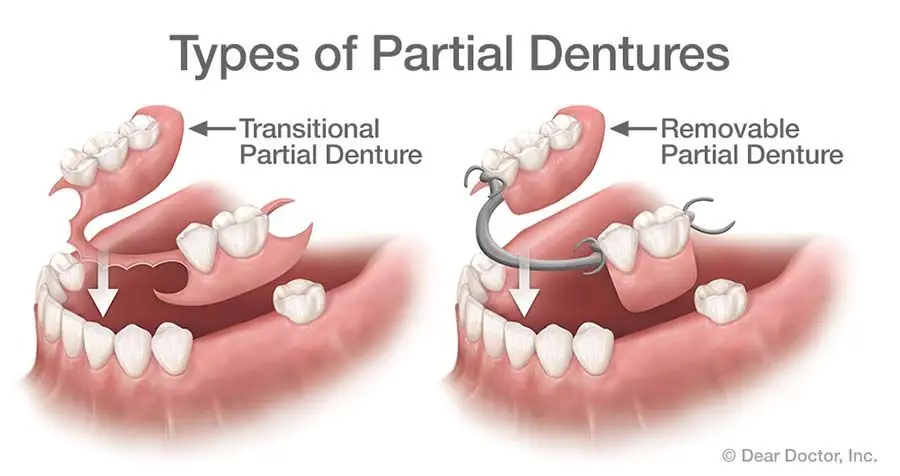 Removable Partial Dentures (RPDs): Usually made of cast vitallium, these well-constructed, metal-based removable partial dentures are much lighter and less obtrusive than those made of plastic. They are a little more expensive than plastic dentures but will fit better. They are, however, much less expensive than implants or fixed bridgework.
Transitional Partial Dentures: These relatively inexpensive removable plastic dentures serce as a temporary tooth replacement and space maintainer as you wait for your mouth to heal from tooth extraction, for example. Once the healing process is complete, dental implants can be placed.
Immediate Dentures: These are usually a temporary means of helping you transition to successful denture wearing. Because of the muscular readjustment required, as well as the natural shrinkage of gums, the dentures which are placed immediately after tooth extraction won't fit as well as permanent dentures made when the healing is complete. They do, however, provide you with new teeth right away, and give you time to adjust.
Conventional Full Dentures: After a period of time, permanent dentures that conform to your mouth with near-perfect accuracy can be fabricated. These are carefully crafted to look as much like your own natural teeth as possible, and are able to function properly in your mouth for a long time.
Implant-Supported Overdentures: To increase the stability of a lower or upper denture, it's possible for it to be securely anchored using two or more dental implants. The upper jaw requires more implants (generally three or more) than the lower jaw due to a lesser bone density. Many people find this option offers a great balance of comfort, functionality and value.